The POP UP Garden Party series has started and is not over yet!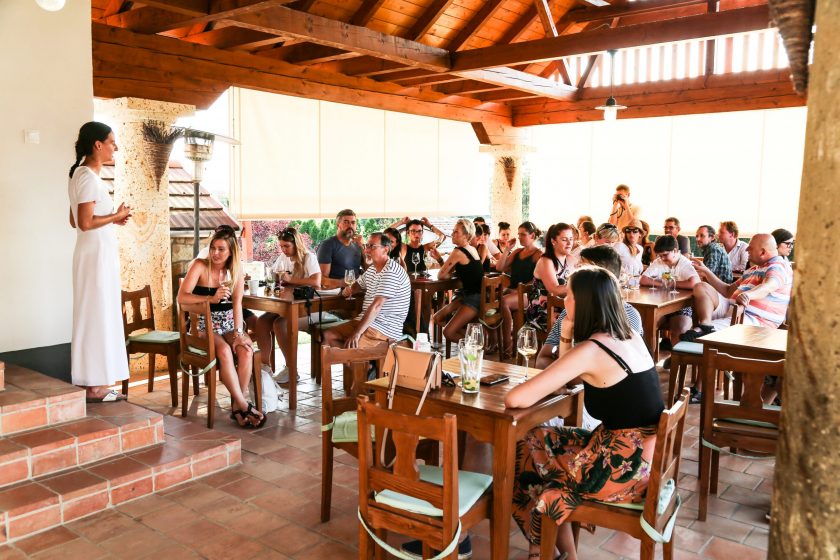 This year we would like to welcome a new series of events to all those who visit our beautiful wine region, Tokaj-Hegyalja.
We've been wondering a while how we could fill the weekends in Tokaj with color, but we've never felt strong enough to get started. However, this year, together with two super wineries – Dorka Homoky and TR Művek – we dreamed up a series of events, the aim to give the guests a greater view of the wine region, to sit in the cozy garden with a glass of wine in the evening, geto to know professionally the different wine styles and vintages, and in the meantime, if they like, they can also taste our own dishes. The first such program was hosted by TR Works in Mád. During the day it was possible to join a walking vineyard tour, but those who did not feel strong enough could stay in the garden, relax and have a drink. Later we had a great wine tasting, as the 3 wineries presented a total of 7 wines from the 2015 vintage. Before, during and after, a small lecso was simmering in a cauldron, which we tossed with breads made with sourdough. Luckily, a professional photographer has joined the programs, so let the pictures he took continue to speak!
This summer we are organizing 2 more events in the same way, together. The next event will be on August 8, when the Zsirai Winery will be the host. The program will be the following:
Opening: 14.00
Vineyard Tour & Picnic: 3pm
The participation fee is 1,500 HUF / person, and we will taste 2 vineyard-selected wines together on the roof of Szent Tamás, with small snack. We make it with homemade greases and vegetables.
Guided tasting: 18.00
What was in 2016? 7 items from the three cellars – 4000 HUF / person Registrate for the tasting at the following e-mail address: info@zsiraipinceszet.hu Participation is limited, so we ask everyone who is interested to please register!
We will be preparing a little food again during the day, now there will be homemade ciabatta with torn meat / fried eggplant and sopsa salad. Please let us know in advance so we can be prepared for you! info@zsiraipinceszet.hu
Campfire in the evening!
Closing: 21.00
The last event will take place on August 29, when Dorka Homoky will host in Tállya! For more details, visit our facebook or instagram page! Join us too!